As the year draws to a close, the team at uQualio – Video4Learning, would like to send our best wishes for a joyous holiday season and a peaceful New Year.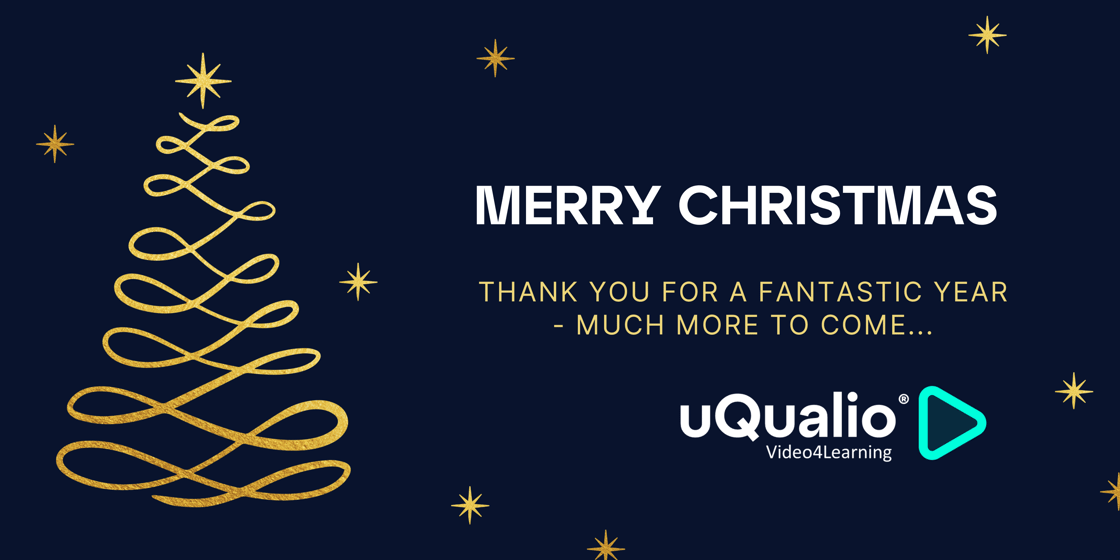 Thinking back on 2022, I must say that it was a fantastic year for the uQualio team.
Here are some of the highlights from 2022
uQualio is the Top 13 Learning & NextGen System of the world in 2023
We got the best Christmas present ever – Craig Weiss named our platform 13th out of the top 20 learning systems – out of a total of 1000 other systems worldwide. Furthermore, he announced uQualio the NextGen learning system of the year. We are truly humbled and will be celebrating with champagne during the holidays.
uQualio beats VR, AR, and Assisted Reality Learning Solutions
uQualio was tested by MADE.dk as industry 4.0 digital peer training, and guess what? uQualio won – as video is super efficient for peer training. Virtual reality (VR) did not make it possible for the operators to turn on a production robot. Augmented Reality (AR) made the operators dizzy. And the Assisted Reality solution made people stop learning because they waited for the expert to tell them what to do.
New Website, Logo, Brand Colors, & Tagline
The more one plans to change, the more things stay the same. We were deep into developing a new name for our platform when YouTube lodged a trademark protest – completely derailing that project. On the plus side, in August we rolled out a new website with a completely innovative design, new brand colors, fonts, and a vastly improved user experience. In December, we released a new uQualio logo and tagline that is easy to read and expresses what we as a company stand for – making things clear! And for the icing on the cake, for anyone who cannot remember how to spell 'uQualio,' simply type in https://www.video4learning.com and you will be transferred directly to the uQualio website.

New Product Features
New brand and UX design on the platform – the colors have been enhanced, and the user journey simplified on uQualio.
New video tutorials – using the uQualio platform, we have made video tutorials or texts about nearly all parts of our platform, giving our users a built-in humanized video support system that begins with how to get started, and scales up to advanced levels of configuration. We have also added an 8-step certification course that, when successfully completed, provides the user with a certificate of comprehensive proficiency.
Integrations – we have integrated with several awesome AI text-to-video platforms: Synthesia, Collossyan Creator, NeuraLoom, & Elai.io
Dashboards & reports – have been improved to make it easy to find the analytics you need.
Subtitles/Captions – you can now add captions to create subtitles that are available in any language you need.
Configuration – has been made available for almost all items on the platform so you can turn things on or off, depending on your needs.
Free trial period & New Subscription model and calculator – as I am writing this, we are putting the final touches on our new subscription model. Going forward, a free trial will last until we get confirmation that you no longer need it. And, drum roll, please, we will adopt a pay-as-you-go billing model complete with add-on features that can be turned on or off with a single click, giving you a fully customized experience with complete transparency in all pricing.
Customer Success Stories
We are so thankful for our fantastic customers and are honored to support your causes and businesses. And we would like to extend an extra warm thank you to those of you who have volunteered to share testimonials on our website and made Trustpilot reviews about our service. Indeed, your input guides our path and means the world to us.
Soon it will be time for us to enjoy this year's good results with good food and relaxation with family and friends during the holidays.
From everyone on the uQualio team, we wish you and yours the best holidays and a Happy New Year!
Hatla Johnsen (CEO and Co-founder)
Achieve Effective & Affordable Video Training
– uQualio is an award-winning, easy-to-use, all-in-one NextGen LMS software for any types of online video training.