Do you find it challenging to make videos? And don't you like being in front of a camera? Then take a look at uQualio's new integration partner, Synthesia. They make a fantastic AI-generating video platform.
With Synthesias STUDIO you can make videos directly from your browser, without the need for cameras or film crews. It's fast, affordable, and as easy as creating a slideshow. Select an AI avatar, type in your script in one of 50 languages and your video will be ready in minutes. Creating your own AI avatar, or of a company spokesperson, is a 10-15 minute process.
Learn more about Synthesia here.
Synthesia is now integrated with uQualio
When your video is ready on Synthesia we have made an import integration in uQualio so you can use your AI-generated videos for learning with a few clicks. This enables you to efficiently distribute the videos whether for public, protected, or private use on uQualio.
Check out this learning course that shows you how easy you make the integration between Synthesia and uQualio.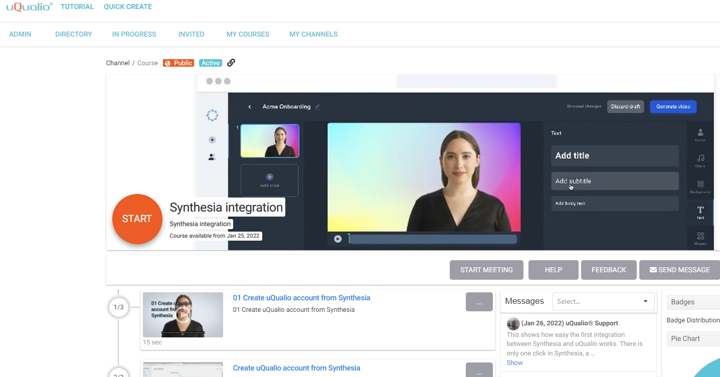 Try out Synthesia for free on Synthesia.io.
Achieve Effective & Affordable Video Training
– uQualio is an award-winning, easy-to-use, all-in-one NextGen LMS software for any types of online video training.